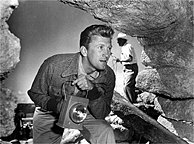 Kirk Douglas in "Ace in the Hole," discussed after the jump
Been on the road and on the couch. ...
After several days of watching movies and eating too much, the bride and I decided it was time to go somewhere that did not involve staring at a big screen in the dark. So we settled for staring at small, brightly lit screens in the form of the slot machines at the Mountaineer lodge and casino in West Virginia.
Mountaineer is close enough to our Ohio digs that we could drive there, play the slots, eat lunch, play the slots some more and -- even if some driving confusion -- be home before dark. It was a pleasant enough way to pass some time, even if it involved me demonstrating yet again how efficiently I can lose money gambling. I am just careful not to lose too much, or to be deafened by the pounding of my heart when I get a little bit ahead or behind.
Anyway, Saturday evening we were home and I settled down with my new DVD of Billy Wilder's "Ace in the Hole," considered in some circles to be the best movie ever made about the newspaper business. (see Greg Mitchell's piece.)
I don't buy praise that high, and would easily rank "Deadline USA" ahead of "Ace" (also known as "The Big Carnival"). "Ace" also has not aged well when it comes to pace, feeling a bit slow, and its story has a lot of echoes of Wilder's superior "Sunset Boulevard." (Among Wilder's films, I'd also put it behind "The Apartment" and "Stalag 17.") And the condition of modern news media, especially on television, has made the movie seem more appealing than it did to some contemporary viewers and critics; you can find period reviews from Time magazine here and from the New York Times here. The Times pinpoints several flaws in the later sections of the movie.
But if you think the news game has gone to hell in recent years, "Ace" -- made in 1951 -- is a vivid reminder of long-ago media cynicism embodied by Kirk Douglas's reporter character, who is looking for a big story to get back on top and is willing to bend the truth to make himself successful. It also shows how a circus could be made of a seemingly minor event -- in this case, a man trapped inside a cave.
Douglas is very good, as is Jan Sterling as the bitter wife of the trapped man. Then there's the patter, like this line: ''I've met a lot of hard-boiled eggs in my life, but you, you're 20 minutes.''
"Ace" makes a good companion with another (and better) movie I finally got on DVD, "A Face in the Crowd," with Andy Griffith as a radio and TV personality whose lovable qualities on the air mask a nastily real character. It may still be Griffith's best performance and its rumination on the power of broadcast media is as effective now as it was when it hit screens half a century ago. Even if I hadn't acquired the video before, I've been carrying around a battered paperback with the script for a lot of years.